Meal Plans for Weight Loss
A well-planned diet helps you eat healthy, feel great and lose weight. These plans are based on whole foods and offer variety.
The Paleo plan emphasizes nutrient-dense, whole-foods that support good health and weight loss. This plan includes plenty of heart-healthy fats, fiber and protein to help you feel satisfied and control your appetite.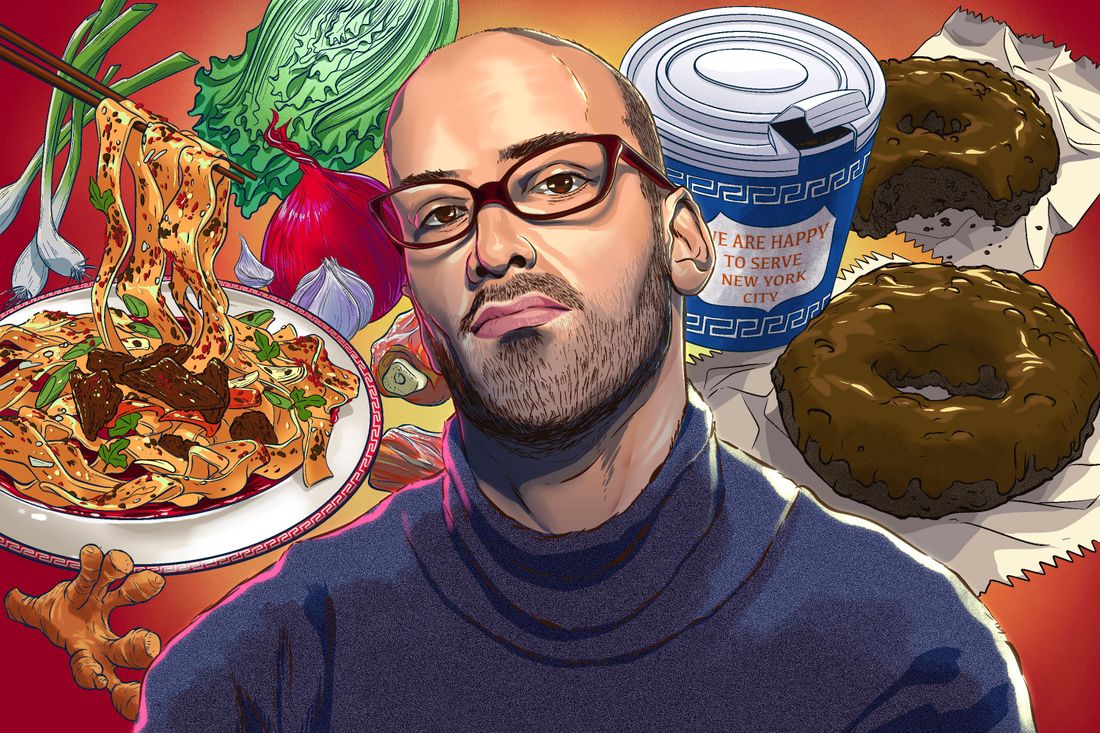 Jay Smooth is New York radio royalty. From 1991 to 2018, he hosted the city's longest running hip-hop show, The Underground Railroad, at WBAI. Since leaving that station, he's continued the program (now called Ill Doctrine Radio) at Bondfire Radio every Saturday from 5:30 to 7:30 p.m. A writer and video blogger as well, he's now making his first foray into podcasts. In Think Twice: Michael Jackson, he and his co-host Leon Neyfakh will go deep on the life and complicated legacy of the legendary pop star. "I'm hoping it'll be evident that we are not here to either do a puff piece or a hit piece," Smooth says of the podcast, which will be released April 27. "We're just pondering how we understood different chapters of his life at the time versus how we might understand them now."
Thursday, April 6
My standard, "possibly embarrassing but I'm going to own it" breakfast for many years is a peanut butter and jelly sandwich with coffee. Call it harm reduction for a pastry addict. Currently, I'm making it with unsalted peanut butter, reduced-sugar preserves from Trader Joe's, and eight-grain sandwich bread from Whole Foods. I have a whole bougie coffee setup with the conical burr grinder, Bonavita kettle, etc., but I'm out of beans at the moment, so I'm falling back on Bustelo with soy creamer, which I will defend to the death as the best milk-creamer option.
My big project at the moment is trying to build this humongous Pax armoire that I ordered, so I'm staying home and subsisting on leftover Chopt salad and — bracing for judgment — a bottle of mint-chocolate Soylent. Also finishing chocolate chip banana bread from Levain, which is unfortunately right next to the Chopt.
That evening, I took a trip uptown to the 125th Street Whole Foods. I go there a lot, because it's right by the 2/3 train, which is also right by my house. So it's an easy trip, and I like having reasons to go back up to Harlem. That Whole Foods is an easy punch line. People call it the ultimate gentrifier. But I feel like people who say that don't actually go there, because it fits in the neighborhood pretty well. And you'll see lots of Black Harlemites there.
Afterwards, I walked down to Field Trip on Malcolm X Boulevard, where my go-to order is the shrimp bowl. This is not a place that has nutritional info listed. So knowing that this is not how things work, I tend to equate healthy-looking options with low-sodium options. And this is also just, to me, the tastiest one, I think.
"Dessert" is Kashi Cinnamon Harvest cereal, which I munch on out of the box with soy milk on the side, for the rest of the evening.
Friday, April 7
I was mostly prepping for this week's radio show, and still working on the armoire until I discovered a piece was missing. The glamorous old-head hip-hop life!
My standard breakfast again, this time with proper whole beans from a company, Coffee Uplifts People, started by some hip-hop acquaintances.
Lunchtime: brown rice, tilapia, and black beans that I simmered for about half an hour with olive oil and "aromatics" plus various other seasonings, a LITTLE salt, and some MSG, which I add to most of the dishes in my very limited repertoire. I feel like I don't know exactly what it's doing. It's kind of a bay-leaf effect. I'm taking it on faith, but it definitely is doing things.
For dinner, I met my mom at her favorite Upper West Side place, Land Thai, where she has befriended all the owners and staff. Had some great short-rib panang curry; not Elmhurst-level Thai but A-tier for Manhattan! There's so many good places in Elmhurst. (One of my favorites, Lamoon, closed during the pandemic, but the people who ran it have another place in the city, Mao Mao, that's mixed with a movie theater.)
I don't have a lot of vices. I don't collect sneakers. I don't drink much. I've been blessed to get new music for free for most of my life. So food is where I love to explore and try things. I obsessively research every restaurant outing, which means I'm either the annoying friend or the very valuable friend. But it wasn't until the last 10 or 15 years, until my mid-30s, I had ever really gone out to Queens. At the time, I was dating someone in Astoria, and I got to know all the Greek and Egyptian places there. Then I'd start getting off at every stop on the 7 train, discovering all the amazing cuisines you can find there too.
I like being in environments where the dominant group is not dominant in that space, and some other group gets to be in their setting and exhale. You learn to be humble and fit in with that, and be welcomed as a guest and enjoy what they're giving you. I feel like that's a healthy process to go through. Growing up between the Upper West Side, where I live now, and Harlem, and doing a lot of media work and such, getting away from middle-class white spaces can be refreshing to me. Going out to Flushing or Elmhurst, trekking out to Brooklyn for some doubles. I'll go see my friend who lives close to Yankee Stadium, and we'll hit one of the Jamaican spots there. Just being in that environment, where you go into a Jamaican restaurant there, you're in a Jamaican space, and you're going to adapt to that.
Saturday, April 8
The standard breakfast, then headed out to Brooklyn for my radio show.
On my way to the studio, I stopped by Bierwax Queens, a hip-hop and vinyl-themed bar in Ridgewood, run by some of my DJ family, and was treated to a beer (Bronx Brewery World Gone Hazy IPA). Normally, I'd be going there after my show, but my friend Suce was spinning. (Usually, I try to stop by Newyorktitlan for sopes or chilaquiles when I'm in this area, but there's no time today.)
Our studio is next to the local vegan-friendly bakery Bake Shop, so I often wind up grabbing a pastry and coffee on the way. This time, I got one of those s'mores bar–slash–"Magic Bar" things. I made a mistake here. I think their default follow-up question is, "Would you like me to heat it up?" And I said yes, but I don't think this is something you actually should heat up. The texture was kind of weird.
Some of the Bierwax crew came along to the show with more beer and salty snacks, which I had to avoid. You are catching me in the midst of a doctor-mandated low-sodium life — which sucks. I've always been the one friend who doesn't smoke weed in most hip-hop settings, and now I'm apparently That Guy for the potato chips as well. It's all right, though, because, to me, most potato chips are just kind of there. I feel the same way about Krispy Kreme doughnuts. The first time I had them, I was like, "Wow." The third time, I was like, "This is just hot sugar." Potato chips are all crunchy salt most of the time.
On the way home from the show, I did my usual and got sushi from Sush1 by 14th Street and Sixth Avenue, a crucial sleeper option for this low-sodium life if you're careful with the soy sauce.
Sunday, April 9
Standard breakfast, and then for lunch probably the only dish in my repertoire I'd actually claim as "good": a sandwich with two scrambled eggs, leftover black beans on the bottom, avocado on top, and Sir Kensington's Chipotle mayo. I use a King's Hawaiian hamburger bun (replacing the now-ostracized Martin's potato bun). This is actually the intended purpose of the black beans, to be honest.
I wasn't sure what would be open on Easter Sunday, so I went for the old reliable Legend on 72nd for fried cumin lamb with brown rice. As with Land Thai, not Flushing-level but totally solid for the neighborhood.
Compared to the options we had 20 years ago, it's fantastic to have all these Sichuan and Hunan places. It's so funny to me, because I grew up in New York, going to places that were named Hunan Balcony, or Empire Szechuan, having no idea those names correlated to actual places with actual cuisines that are way better than what we're getting. So it's definitely a blessing to have the options we have. But also, I know I'm not getting what I would get in Queens either. I feel like Legend has a real nice neighborhood feel, and it's got pretty solid renditions of the food, in my nonexpert opinion. It was one of the earlier Sichuan spots to come to Manhattan. This is the one that used to be on Seventh and 16th Street. That one closed. My favorite spot for Sichuan food was in that basement food court where the first Xi'an Famous Foods was. The place, Chengdu Heaven, that was right by the stairs was my favorite spot to go to. I would get the dan dan noodles. The woman behind the counter would be watching me, and then without saying a word, come over and properly stir up the dan dan noodles for me and walk back. Like, "No, no, sir. You do it like this." It was definitely formative for me.
Monday, April 10
Standard breakfast, and then I'm cat-sitting for my mom and stepdad uptown. On my way over I stopped at the One Stop Patty Shop on Amsterdam for lentil patties and coco bread. There used to be another bigger Jamaican spot right across the street that was my go-to; it's been replaced by a Little Caesars or something. For what's in the neighborhood now, One Stop is definitely a solid step above Golden Crust, but definitely you want to go out to the Bronx to really get the good-good.
Since we're all the way off the wagon, at this point, I went to the new location of Charles Pan-Fried Chicken for Harlem's best remaining soul food. (RIP to the GOAT, Copeland's, which used to be here on 145th as well.) For dessert, I got the peach cobbler ice cream from Sugar Hill Creamery.
My mom's place is near where I grew up on 145th Street. So many of my favorite places are gone now. There used to be a place on 125th Street named Georgie's Donuts, which I'd go to when I worked in that area. There was also this place named Steak and Take, which was a sandwich shop. I think it was run by the Nation of Islam. They had these really good cheesesteak sandwiches with the special sauce.
Terms and Privacy Notice and to receive email correspondence from us.